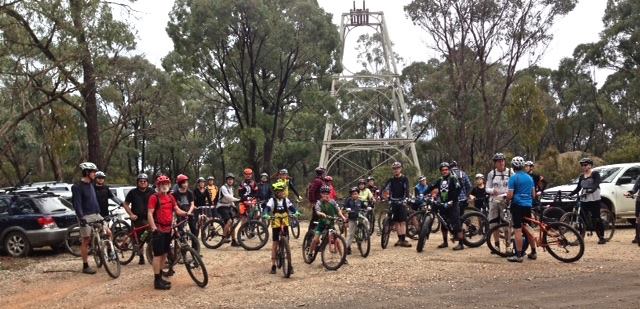 Our monthly social ride will be held on Sunday 23 July and will be aimed at beginner and intermediate riders. The ride will feature some of the more flowy, less technical trails in the Muckleford Forest. We will ride for around 15 kms, but there will be a number of options to shorten the ride length if fitness is an issue.
We will likely split into two groups to offer both a social-paced and a more intermediate paced journey. All riders must be self-sufficient with food, water and spares. A well maintained/working mountain bike and helmet which meets Australian standards are required.
This ride will be suitable for family groups and for younger riders with good fitness. Ride leaders have Working with Children Checks and must abide to our child safety code of conduct.
The ride will commence at 09:30am at the historic Red White and Blue poppet head on Bells Lane Track.  Head west on the Muckleford School Road, past Jeralee Boarding Kennels and continue on Bells Lane Track to the intersection with Red White and Blue Track.  There is plenty of parking (but no coffee van).
In order for us to manage riders to ride leader ratios please register through the AusCycling events portal.
Please note: AusCycling membership is REQUIRED to cover you for insurance. AusCycling has 4 week free trial memberships and monthly lifestyle memberships as options. Anyone coming to social rides without active membership will have to sign up on the day to one of the AusCycling membership options described above (or full membership) https://rockyriders.com/membership/